Skip Navigation
Website Accessibility
Template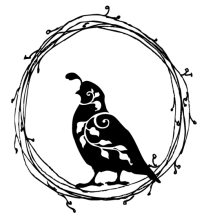 Quail's Nest Quilt Co.,LLC

DECEMBER NEWSLETTER
Thank-you for all the support on Black Friday and Small Business Saturday! Buy your gift cards between now and Decmber 22nd because we will be closed by 2:00 on Friday and closed on Saturday December 23rd as I am turning 59 AGAIN!
The Quail's Nest Quilt Co. website is now connected to our Point of Sale (POS) system. We are starting an on-line shop, but the items will be limited at first and will gradually increase. Be sure to go see and explore the new website being sure to click on calendar listings because prices and descriptions will appear. Go to the website and see the pictures better. Some of these items must be seen in the shop to fully appreciate the details.

Pajama Pants Party - Receive instruction or just come sew for fun! No help = $5.00 Instruction $15.
Friday, December 1st



December 5th - Quiltin' With the Quails 10:00-4:30 $5.00 for the Quail's Nest space
Lindy Miller is coming in with others who want instruction on making the Sew Together bag that we had a class on a few month ago. She may require a fee.

Gadget Girl Tool Kit Repeated!
Wednesday, December 6th 10:00-4:00 $25.00
You must get the pattern ahead of time and cut out the fabric and interfacing. This makes a great gift.




Blue Truck Club is still going! Anyone who wants help with a Laura Heine Collage pattern can join in. Some have finished their trucks, but i'm still working on mine.
Thursday, December 7th 10:00-12:30 $10.00



Folded Fabric Market Bag! This is a free download and I have copies of the pattern by Sharon Holland.
This bag is made in less than an hour, maybe even a half hour. I had so much fun making it! It takes a yard and 3/8ths of fabric. There is a 4 inch strip of contrast fabric as well. You just have to come make these!!
Friday, December the 8th 10:00-12:00 You can make 2 or 3 of them!



Babushka Yaya Placemats!
Saturday, December 9th 10:00-3:00 $20.00 Small pattern required
These are sew cute! We sell a little fabric kit (made from a layer cake to provide a variety of fabric) to make 4 of the Babushka dolls. It would need a yard of light fabric for the front and a yard of dark fabric for the back to make a set of four.



Tuesday, December the 12th the Machine Embroidery Club is having a holiday Get Together from 10:00-12:30 or so.

Stacked Squares Batik Quilt - This is taught by Ginger Duffy and the pattern is a copy of a free download from the Moda Bake Shop. It is a Good ONE! Easy, fast, but clever.
Thursday, December 14th 10:00-3:30 $30.00



Twister Gnomes Table Runner - If you own the Lil' Twister ruler, here is a project that is not fully twisted!! Just one side of it is! I love these gnomes! We are making ours in snowflake blue. We have a few Lil' Twister rulers for sale.
Saturday, December 16th 10:00-3:30 $20.00 Get the pattern ahead of time. Some pre-cutting would be helpful. We will teach the twisted part.



Hexagon Crazy Quilting - Start with a Hexagon and strip piece in wonky sizes around it. I made my Christmas shirt something like this. I forgot to take a picture, but I'll try to get a picture on the website soon.
Tuesday, December 19th 10:00-12:30 $10.00 Just to learn the technique; maybe you can decorate a shirt or sweatshirt.

Beyond Beginning Quilting
This uses the book called "Simple Simon Guide to Patchwork Quilting". Several traditional quilt blocks are learned while making small projects.
Wednesday, December 27th $45.00 for four sessions.



Well, this may not be perfect, but it is a perfectly good start for my first Newsletter post under the new system.

Click to visit Quail's Nest Quilt Co.