Skip Navigation
Website Accessibility
May's Newsletter
Happy May to everyone! We have been busy doing shows this spring and I am venturing out to Ukiah's quilt show for Cinco De Maya! I will be staying with Annette who lives in Santa Rosa! But, there will be something for you going on here in the "Nest"! Come in on Saturday to draw a paper from a sombrero for an instant prize, discount, or gift certificate!
Lilac Ridge Sampler Spree will kick off this month! Pioneer Spirit is a panel combined with a variation of the Irish Chain, Jelly Roll Rug, and MORE!

JELLY ROLL RUG Saturday, May 26th 10:00 - 4:00 $25.00
One jelly roll, 2 1/4" batting strips, and little fusible batting tape is all it takes to make this rug!
Come see our sample and learn the technique from Susan.

SERGER CLASS WEDNESDAY, MAY 23RD 10:00-1:00 $30.00
Learn to use your serger. Ginger Duffy will teach you how. This is for the very beginner and the somewhat
knowledgable.

EMBROIDERY MACHINE CLASS WEDNESDAY, MAY 23RD 2:00-5:00 $30.00
This is your chance to get instruction on your embroidery machine. If it is a machine other than a Bernina please
bring the instruction booklet in ahead of time.

LILAC RIDGE SAMPLER SPREE BOM WEDNESDAY, MAY 30TH and a second date on Friday, May 8th 10:00 -12:30 or until 3:30 if you need
freezer paper applique instruction. The cost of the BOM is $24.99 and basic instruction is no additional charge.
However, if you need freezer paper applique instruction there will be an additional $10.00 fee.


BEGINNING QUILTING STARTS AGAIN Thursday, May 10th 10:00-12:30 $50.00 for 5 sessions.
Find friends who want to begin to quilt or have never taken a basic skills class.
PLEASE GO TO OR WEBSITE: quailsnestquiltco.com to see more details on classes and the calendar format.

THE EMBROIDERY MACHINE CLUB IS CONDUCTING ITS OWN CLASS ON SATURDAY, MAY 19TH. 10:00-3:00 $20.00
It is called ZIPPERED BAG. Come see the bag sample in the shop. It has a cute bicycle on it!



CREATIVE QUILTS FROM YOUR CRAYON BOX! THURSDAY, JUNE 14TH FLAG DAY! 10:00-4:00ISH $25.00 PLUS $5.00 MATERIAL FEE
Candy Guttierez will teach you to melt and blend your crayons on Southern Belle muslin to create beautiful pictures.
You will need the book. It will be available soon here at Quail's Nest.
FRENCH BRAID PART I FRIDAY, JUNE 15TH $70.00 WILL COVER BOTH SESSIONS 10:00-4:30
MO GONZALES IS A GREAT TEACHER WHO PROVIDES MANY TIPS BEYOND JUST THE PATTERN!


NEW SERIES: QUILTS FROM THE PAST SATURDAY, JUNE 16 10:00-3:00 $25.00
The first quilt is the Split Nine Patch. Learn to make accurate half square triangles using Bloc Loc rulers. Various arrangements
of the lights and darks create different patterns. You can use reproduction fabrics or modern ones. It can be dynamic with
Batiks.

PIONEER SPIRIT Saturday, June 30 10:00-4:00 $30.00
This quilt pattern includes blocks from a panel or family photos OR a large print square with an Irish Chain running through it.
The pattern and method are fantastic! It is made from strip piecing. You can make this your own style or copy ours.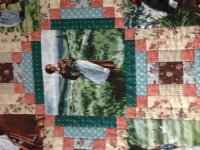 OKAY! I TURNED THESE IMAGES USING PIXLR, BUT THEY WON'T UPLOAD, AND I'M OUT OF TIME! SO, TIP YOUR HEAD! :)
BLESSINGS AND GOODNIGHT,
SUSAN FLOREZ