Skip Navigation
Website Accessibility
November Newsletter
We appreciate all of you who came in to see us for Halloween. There were a few costumes.
CONTEST!! The person who finishes the most registered UFOs (UnFinished Objects) or new projects by December 29th wins...Two "Road to California" vouchers, $25.00 cash, and a $25.00 gift certificate to Quail's Nest Quilt Co.,LLC.
Here's how it works. Register any, made by hand, sewing/quilting project during the next two months, (November and December), and show us the finished projects by December 29th. We have saved many FREE classroom use days on the November calendar just for this purpose.
GO TO quailsnestquiltco.com to see a calendar. Also, there are hard copies at the front register for November now.
JELLY ROLL RUG STRAIGHT VERSION It is rectangular. Please join the 2 who are already registered.
SATURDAY, NOVEMBER 10TH 10:00-4:00 $25.00
GADGET GIRL TOOL BAG CLASS - November 16th $35.00 10:00-4:00 This bag has many compartments for carrying supplies like our quilting tools, but also could be used as a make-up, school supply, art supply, or travel bag. There are zippers, but the wonder tape holds them in place while you top stitch on binding edges.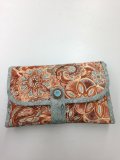 FREE MOTION QUILTING TUESDAY, NOVEMBER 20 10:00-2:30 $35.00
This class will help you to complete those Fall and Winter Table Runners that have been so popular here. Come get a supply list. Many have had an enjoyable time and agree with me that Angela Walter's Free Motion Quilting book is excellent for beginners. Her follow the dots instructions make free motion doable.
Lilac Ridge Block #7 is on Wednesday, November 28th. It is a star block and anyone can come learn to piece these stars even if you are not in the Block of the Month. IF YOU RECENTLY FINISHED A BEGINNING QUILT CLASS, you may want to piece with triangle blocks as your next step.
Speaking of Block of the Month, there will be a new one or maybe two starting in January. The first one is called "101 Maple Street". It is applique and has quails with other forest animals. It is designed by Bunny Hill. The other BOM will be a mystery pattern. A pieced block will be revealed each month.
Well, the photo editor is down temporarily, so tip your head to see this cute BOM, with quails, I might add!!
Peace to you all as we enter the holiday season once again,
Susan Florez
Managing Partner