Skip Navigation
Website Accessibility
March Newsletter
Well, the old saying that "March comes in like a lion and out like a lamb" had better be TRUE! I am ready for the lamb!! We had a good time at the Manteca quilt show at the County Office of Education off of Arch Road between Manteca and Stockton. (Great venue) They have the best chef and mini cafe! Oh, their quilts were beautiful too! Judy Mullen was their featured artist and she is amazing as well as prolific! I knew of her when I was in the Manteca Quilt Guild about 10 years ago.
We have some employment news. Cindy Niebla is going to work on Thursdays from 10:00-2:30!! Yay us!!

A BEGINNING QUILT CLASS IS STARTING ON SATURDAY, MARCH 9TH. IF YOU WANT TO SHARPEN YOUR QUILTING SKILLS, OR HAVE A FRIEND WHO WANTS TO START QUILTING, HAVE THEM CONTACT US AT 209-536-4009
$60.00 FOR 5 SESSIONS 2:00-4:30 ON 3/9, 3/16, 3/23, 3/30, AND 4/6 INTRODUCTION AND SUPPLY LIST NEEDED

Go to quailsnestquiltco.com for a calendar and class listings any time.

RAPID FIRE HUNTER'S STAR TAUGHT BY CINDY FRIDAY, MARCH 22 $35.00 10:00-2:30
This class will focus on the petite star ruler by Deb Tucker, but I do have the large star template as well.



CACTUS BLOOM! THIS CLASS IS $10.00 FOR THE INSTRUCTION AS WELL AS $24.99 A MONTH FOR THE FABRIC, DIRECTIONS, AND PATTERN. QUAIL'S NEST IS SIMPLIFYING, PREPARING, AND TEACHING YOU HOW TO MAKE THIS FABULOUS PAPER PIECED BEAUTY! OUR ORIGINAL ESTIMATE WAS ONE DOLLAR SHY OF THE FABRIC COST AND DID NOT COVER THE AMOUNT OF PREPARATION AND INSTRUCTION. WE HAVE VELLUM PAPER THAT IS SEE THROUGH AND EASILY TEARS OUT. PLUS I HAVE ORDERED PAPER FROM THE PLUM EASY PATTERN GURU, DEBORAH MILLER, TO SEE IF WE LIKE THAT.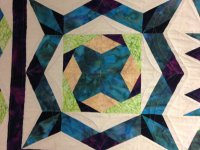 IT'S A SNAP! WE HAVE KITS READY IN THE BABY FARM ANIMALS FLANNEL, BUT YOU CAN CHOOSE ANY FABRIC YOU WANT. IT TAKES EIGHT FAT QUARTERS.
WEDNESDAY, MARCH 13TH 10:00-4:00 $30.00


FREE MOTION QUILTING FRIDAY, MARCH 15 10:00-2:00 $35.00 Supply list needed

PICTURE: COMPLIMENTS OF ERIKA NAVARRETTE-past student

101 MAPLE STREET BLOCK OF THE MONTH SATURDAY, MARCH 23 10:00-12:30
REPEATED FRIDAY, MARCH 29 2:00-4:30
THERE IS STILL ROOM FOR ONE MORE PARTICIPANT!!


LILAC RIDGE BOM 10:00-12:30 BLOCK #11 WE ARE GETTING CLOSE TO THE END!! In addition, THERE IS A CUTE TABLE TOPPER WITH TW0 OF THE WATERING CANS AS A PATTERN OR A KIT.


NEW KITS: GOOD THINGS WILL COME - SMALL THROW, SONG BIRDS WALL HANGING, AND DAINTY TOTE MADE WITH "BREW" MINI CHARMS.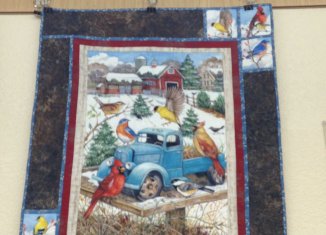 Happy Sewing,
Susan Florez
Managing Partner