Skip Navigation
Website Accessibility
CRYSTALS, CACTUS, AND COLORFUL WOOL!
Sometimes, there are products in the shop that customers have asked for, but others may not know that we have. In case you didn't know, Quail's Nest Quilt Co has Swarovski hot fix crystals. These crystals are heat affixed to quilts and add sparkle to many design elements. You may also see in this picture Finishing Touch bobbin thread, and silk thread for hand applique.
Colorful spring wool has arrived! There are the cutest little bundles that measure 1 1/2" square called Chunklets! There are all kinds of colors.
Plus various folded larger pieces. There a 5 inch square packages called Wooly Charms. My Blue Heaven is the Wool BOM!! We have kits available.
CACTUS BLOOM is about to start! Come learn how to make this first block.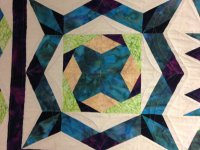 Thursday, March 28 10:00-2:00 $35.00 will cover the cost of the block $24.99 and $10.01 for instruction.
This is a Block of the Month, but it can be modified into a four block wall hanging.
Blessings,
Susan Florez
Managing Partner