Skip Navigation
Website Accessibility
Summer Fun Sale! AND some class announcements!
"

Sew Merry

", the Block of the Month, from The Quilt Company is due to arrive at our shop soon! It is the dark version. There are only 5 spots available in this Block of the Month! $25.00 a month for 7 months. There is a $20.00 registration fee. Call us before we start dividing it up if you want the complete kit for $175.00. Remember, there is no shipping fee involved, and a brick and mortar shop needs to pay the rent!
We will start this as a class on the 4th Saturday of August (24th) and it runs until the 4th Saturday in February. We could speed it up, but will discuss that with those that make the purchase.

We are very excited about this. :)
From now until the end of August enjoy these specials.
WE are offering 20% off on SPECIAL ORDERS! So, if there is a ruler, a new gadget, etc. that you have seen or heard about, order it from us and enjoy the discount with NO shipping fees! You must pay in advance to get this great deal.

LIGHT WEIGHT SEWING MACHINES BY EVERSEWN
ORDER a sewing machine and get 20% off! The beautiful Sparrow 30 is a light retro pink, comes with an extension table, push button thread cutting, 310 stitches, and a manual threader. Regularly $499.00 - SAVE 99.80 - NOW (including tax) $428.14! Instruction included!


ORDER a Sparrow 25 at 20% off and save $81.80. That's 350.92 including tax! No shipping fees and comes with a half hour of instruction. It has 197 stitches, a threader, and speed control.


ORDER A Sparrow 15 at 20% off and save $44.00! That is $176.oo and with tax it's $188.76. It is a manual machine. Basic, but handles great!


Order your ZIG kit now. Put $20.00 down and get 10% off of the kit. Regularly $80.00. That's $72.00. Pay $20.00 now and pick it up later for $52.00. Some of our fabrics are unique, but close to the end of the bolt.


If you shop for fabric for a complete quilt, or nearly complete, you will receive 10% off at the register. Please remind the clerk at check out. Save $$$ This is just you choosing what you want; sometimes with our help.



BYOB

- IF YOU BRING YOUR OWN BAG OR REUSE ONE WE GAVE YOU, THAT WILL BE 10% OFF. I PLAN ON KEEPING a 5% discount after August AS A STANDARD DISCOUNT. PLEASE REMIND US AT THE CHECK OUT STAND. IF YOU DON'T SAY ANYTHING, YOU CAN'T COME BACK FOR A DISCOUNT.

Gadget Girl Tool Kit is a class on Wednesday, August 28th. 10:00-4:00 Cut some out ahead of time. $35.00
We already have one student and need a few more!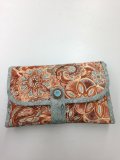 Learn rough edge fusible applique! McKenna Ryan is the designer of Rakin' and a Rollin'. August 30th. 10:00-4:00 $35.00
Our kits for this wallhanging sized quilt are nearly complete! Just the pattern needs to arrive...maybe tomorrow.


Coming SOON! NEW kits! Mod Baby and Tartary.

Fabrics for Tartary.

I SEW enjoy seeing whoever comes to the quilt shop each day!
We have rearranged many areas of the shop, and there were many positive comments today and yesterday!
Blessings,
Susan Florez