May News from Quail's Nest Quilt Co.,LLC
"The Nest" has definitely been different during this past month. I have been in the office and available for phone calls, emails, and texts. Tuesday through Friday from 10:00 until 2:00ish are the days and hours I have been keeping. The heat and lights have been mostly off. The website's online shop has been under development. Each day more categories and products are being added. Purchases can be made using a debit or credit card. The products being purchased show up on the shop's gmail account. Standard Post Office is next door and I will mail out the items as soon as possible. Look at: quailsnestquiltco.com ...online shop. Classes are not available, as they will be the last to be reinstated. But, at least you can see some of the ones we were planning.
I have been posting on the Quail's Nest Quilt Co Facebook page as well.
Curbside deliveries are definitely available. Call or email. 209-536-4009 - quailsnestquiltco@gmail.com
Just a note about this Friday. I have an appointment to go to and I may make it back by the afternoon. So, get in touch with me tomorrow if you have a need or want. Leave a message for me on any day, and I will do my best to follow up with your request even if it is not a regular day. It may be possible for local and known customers to make an appointment for a private visit to the shop. There are conditions for this, so definitely call ahead. I don't know when it will be safe for out of the area visitors, but I look forward to that day. Please stay in touch via Facebook, email and the website.

New fabric arrivals: Goosetales by Riley Blake fabrics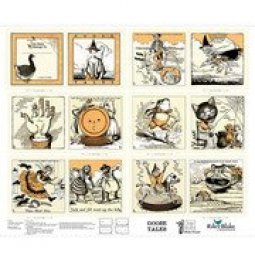 How about a challange using these fabrics? A few local friends are already starting on their quilts using the Mother Goose panel. Come up with an original wall hanging or quilt using one of the two panels available, and at least 3 fabrics from the collection. The panel that is a children's book would need to be used as squares in a quilt, and not as a book...OR use the Mother Goose panel in a quilt. Complete the quilt and we'll hang it in the shop for all customers and visitors to vote for their favorite. It will be due in the shop by August 15th. We will vote until August 30th. A gift certificate of $30.00 will be the prize. Your quilt, name, and possibly picture will be on display, and if you want to write up a pattern, I will have it for sale, with proceeds going to you after processing costs.

Quail's Nest WILL be participating in Quilter's Trek. (There was a Corona Virus discount) :)
The Row by Row experience is now called Quilter's Trek. The theme is True Blue for 2020 and it starts on June 21st. It ends at the end of August, or at least for now it does. Visit participating quilt shops and get a free pattern for a 9" quilt square. Shop kits are for sale, but only in person. A free 2 1/2" token of a printed fabric square with a state logo will be in the purchased kit. The first two people who bring in a finished quilt with at least 32 squares in it from at least 8 shops will win 15 fat quarters and a second prize for having that shop's square in it; plus pictures and bragging rights. Rows from past Row Experiences can be included, even encouraged.
Blocks do not have to be all blue. The blocks are primarily blue.

New basic fabrics are Off white solid, light teal solid, and a white on white with scattered star groupings, two indigo gatherings, and 4 new 108" backing fabrics.

Blessings during these trying times,
Susan (and currently, Genevieve)