Skip Navigation
Website Accessibility
October Newsletter from Quail's Nest
Hi, everyone! Alice is teaching a second Southwestern Quilt Class on Tuesday, October 6th. Give us a call if you had wanted to take it, but it was full on the first date. It is $40.00 and it is 10:00-4:00 Classes are for up to 4 people only. You must wear a face covering. We do have a few clear plastic face shields available if masks bother you. 209-536-4009
-Supply list available.


Another Beyond Beginning Class is being scheduled for 6 Fridays this Fall. If you have taken Beginning Quilting and want to learn Half Square Triangles or if you just want a simple sampler quilt, then this is the class for you! Many traditional blocks and skills will be taught. Learning to make multiples of HSTs, and double colored hour glass units are just a few.
Friday, October 9th and 30th, November 13, December 4th and 11th. 10:00-2:00 Pattern provided $70.00




NEW!

The All Hallows Eve line of fabric by Fig Tree has arrived on bolt. There are seven fabrics. I focused on blenders that can be used for any project. I also have many fat quarters available as well. The white on white houndstooth used in the background of Witches Night out is not among the ones that arrived. (I have several other backgrounds that are cute with it though.) It is still coming by early November. I have the Hocus Pocus pattern using this line as well. It is darling made up!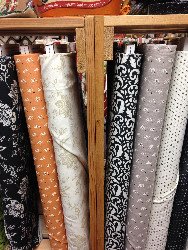 THE NAUGHTY OR NICE LINE OF FABRIC BY BASIC GREY IS HERE AS WELL. THE PATTERN "ELFIN AROUND" IS 15 ELF BOOTS AND ONE WONKY SANTA HAT. THERE IS ANOTHER PATTERN CALLED RIBBON WEAVE. IT USES 2 1/2" STRIPS.


We are making kits for "Elfin Around" and we are cutting strips for "Ribbon Weave". We are waiting on an apple red fabric and a gray fabric, but they should be here in a few days.



I can teach "Elfin Around" on Tuesday, October 20th. 10:00-4:00 ONLY $25.00 It would be worth it. I found some mistakes and corrected them, plus I spent hours studying the pattern. I have made 5 boots, and a hat so far. simplification techniques will be presented.





Shhh! Our Anniversary is coming up. Keep October 22-24th open for an event.



Keep Quilting,
Susan Florez
Managing Partner