Skip Navigation
Website Accessibility
November Newsletter from Quail's Nest
Welcome to the Holiday Season everyone! We will be experiencing it for the first time here in The Junction! It will be interesting to see if the general public will visit us for gifts as well as our loyal "Quilting Friends". I have started to receive some gifty type items to sell, plus I have been making some homemade items as well. My passion right now is the Quilty Gift Box! I thought of it a few years ago, and I finally got around to making a few. Anyway, the Scandinavian Table Runner is quite a hit! I have rescheduled the class for December 2nd. Many little kits are available. Also, just the pattern can be purchased for $2.65. There are several Blocks of the Months still underway. Most of them are filled though. You may always check to see if there is one left over place. The calendars are updated for November and December. Go to quailsnestquiltco.com and click "calendar" or "classes". Archived Newsletters also have class information.

Scandinavian Table Runner Class taught by Patty Conrad 10:00-2:00 Thursday, December 2nd $20.00
Cutting needed ahead of time.


Piecekeeper Bag taught by Debbie Hicks 10:00-2:00 Tuesday, November 30th! $20.00
Sign up to make this great Project bag. The Pattern is just on one page.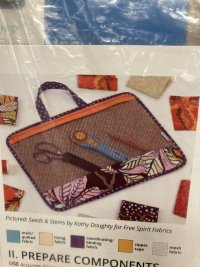 Binding Class taught by Susan Thursday, December 9th 10:00-12:30 $20.00


Here are some pictures of items that will be for sale, and just some new arrivals.


See the Llama?

There are several note pads available.
This is a Flannel quilt kit.

Some Gingerber gift tags and red Scandinavian print coffee flasks arrived today.

Gift boxes:
These are smaller than they appear.

These pictures may shuffle, but I always try to organize the layout.

Blessings,
Susan Florez
Quail's Nest Quilt Co.,LLC