Skip Navigation
Website Accessibility
January Newsletter from Quail's Nest Quilt Co
The last week of December was quite challenging with all the snow, but this week looks promising in many ways.
Inventory is continuing, however, many categories were completed remotely and in conjunction with the employees that were able to be at the shop.
Christmas fabric, including precuts and kits are 40% OFF! The cute Train kit, snowman kit, and pretty layer cakes are included! We still have Advent calendars as well. FLANNEL is 25% OFF.

Spiderman and Marvel fabrics are available, and I have a quilt top finished for one of my grandsons. My husband took me to see the latest Spiderman movie yesterday!
We can kit one up for you if you request it.

UP COMING CLASSES INCLUDE:

BEGINNING QUILTING STARTS JANUARY 11TH. COME IN AND SELECT THE APPROPRIATE FABRIC AMOUNTS AND TOOLS AHEAD OF TIME. THERE IS A HANDOUT TO GUIDE YOU, AS WELL AS GUIDANCE FROM US. The Pattern is given out in class.
10:00-12:30 TUESDAYS NO SEWING MACHINE REQUIRED ON THE FIRST CLASS. $75.00 covers 5-6 lessons plus the pattern

BEYOND BEGINNING CLASS SERIES JANUARY 14TH, 21ST, 28TH, FEBRUARY 4TH, 11TH, AND 18TH. 10:00-2:00 $75.00
THE PATTERN IS GIVEN OUT IN CLASS, AND IS PART OF THE CLASS FEE. A SUPPLY LIST IS AVAILABLE.


Anyone who has taken the Beginning class in the past, should sign up to take the BEYOND BEGINNING CLASS.

BLESSINGS OF HOME IS A BOM THAT STARTED IN 2021, AND IS MEETING AGAIN THIS FRIDAY, JANUARY 7TH. 10:00-4:00.

ENGLISH PAPER PIECING IS STARTING UP AGAIN! THURSDAY, JANUARY 13TH KATHY GILLASPIE WILL BE HOSTING IT.
11:00-3:00


CRYSTAL LANE IS MEETING ON JANUARY 20TH AND FEBRUARY 17TH. 1:00-4:30.

"A RIBBON RUNS THROUGH IT" IS A 10 MONTH BOM (BLOCK OF THE MONTH) STARTING ON JANUARY 27TH, AND CONTINUING ON THE 4TH THURSDAY OF EACH MONTH FOR 10 MONTHS. THERE ARE 4 BLOCKS TO MAKE PER MONTH! THIS IS MORE LIKE A BLOCK A WEEK. :)
WE WILL MEET AT 10:00 - 3:30. THERE IS A REGISTRATION FEE OF $10.00. THE BLOCKS ARE $35.99 EACH MONTH AND THERE WILL BE A CONTRACT TO SIGN PROMISING A COMMITMENT TO COMPLETE THE SERIES. THERE WILL BE A CLASS OFFERED EACH MONTH. ATTENDANCE IS OPTIONAL. THE FIRST CLASS MAY HAVE LYNN WILDER AS THE TEACHER, BUT IT IS DEPENDENT ON THE WEATHER BECAUSE SHE LIVES IN ARNOLD. WE WILL RESCHEDULE HER FOR A LATER DATE IF NEED BE.
THIS CLASS IF FULL ALREADY, SO I AM BASICALLY LETTING THOSE KNOW THAT ARE ON THE LIST TO OFFICIALLY REGISTER, TO GUARANTEE YOUR SPOT!

Right now we can add seven from our waiting list. We will be calling you.

Here are a few quilts we are preparing. Let us know if you would be interested in a one day class for Marco Polo or a BOM (Block of the Month) for Pottery Maker.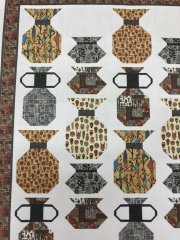 Juxtaposition: It really is "on point" with setting triangles.


In progress: One day class: Kits

Winter Blessings,
Susan Florez
Managing Partner

I don't have the Marco Polo block laid out correctly. The darks should be together and the lights form a circle to the outside. However, you can see the fabric line. Juxtapositon has a few pieces out of order too. Like I stated, "It's in Progress".