Skip Navigation
Website Accessibility
Quail's Nest Quilt Co Newsletter


SPRING SCHEDULE

This is basically a Spring overview of classes and events. However, there are two summer happenings already on the agenda for you to be aware of. The Twice Nice Sewing Machine Restoration business is scheduled to present a class on Singer Featherweight maintenance on Saturday, June 25th. It costs $50.00 per person. There is a minimum of ten participants required. Let us know if you are interested, so that I can determine if I should proceed with the class.



The Sew Valley Quilters Shop Hop is happening again this summer! This year's theme is: A trip to the Beach! Postcard flyers are now available in the shop. The dates are Friday, July 15th and 16th. Reserve these dates to participate!

Keep in mind that EverSewn sewing machines are for sale at the shop. I carry Sparrow 15, Sparrow 25, Sparrow 30S, and now I also have Sparrow QE! (Quilter's Edition)
I also have a used Avante Handi Quilter machine for sale. I have the brochure on many Handi Quilter longarm machines that Richard, at the Elk Grove NorCal Sewing and Vacuum Center can present and install here in our area. We love Richard and Roxanne, so shop with us for any of your sewing machine needs. (wants, desires?)

We are offering basting services for anyone who hand quilts, or wants to finish a quilt on their home sewing machine.
$40.00 for a baby quilt up to a throw, $50.00 for a twin sized quilt, and $60.00 for a Queen or King sized quilt.

Here is a picture of a St. Patrick's Day Table Runner. It is a kit that we have available. We have great fabric as well.



CLASSES

CALLING ALL BEGINNERS OR FINE TUNERS!
BEGINNING QUILTING: MARCH 1ST-MARCH 29TH 2:00-4:30 $75.00 FOR ALL 5 SESSIONS
COME IN FOR A SUPPLY LIST AND FABRIC SUPPORT

BEYOND BEGINNING CLASS:

APRIL 12TH-MAY 17TH 10:00-2:00 $75.00 FOR 6 SESSIONS

FREE MOTION QUILTING: This is on your home sewing machine.

FRIDAY, MARCH 11TH 10:00-2:00 $45.00 SUPPLY LIST AVAILABLE

FOLKLORE CLASS: MARCH 17TH 10:00-4:00 $45.00 CUT AHEAD! Get a cutting sheet.


A RIBBON RUNS THROUGH IT (BOM) BY LYNN WILDER 10 MONTH COMMITMENT
MARCH 24TH 10:00-3:30 or 4:00 SUSAN WILL GO OVER LYNN'S BLOG AND DIRECTIONS
A class will be offered each month as a free support, but the purchase of the blocks is a requirement.
We have two spots/kits available still.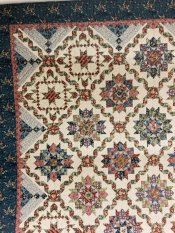 APPLIQUE CLASS: SATURDAY MARCH 19TH 10:00 - 3:30 $45.00 Hand and fusible methods



MARCO POLO CLASS: FRIDAY, MARCH 25TH 9:30-3:30 $45.00 Kits available. Throw size
Let us know if you want the larger version, and we will work to increase the fabric allotment. There is always 10% off of anything purchased for classes. This is a beautiful quilt using the Spiderweb ruler by Creative Grids. You will learn a lot.
There will be cutting ahead of time. Come to our classroom on Monday, March 21st and I'll go over the cutting with you.


BINDING CLASSES:
SATURDAY, MARCH 12TH, AND AGAIN ON FRIDAY, APRIL 8TH. 10:00-12:30 $20.00
Come with your binding strips joined on the bias, and pressed in half lengthwise. Bring a project that needs binding.


PAPER PIECING CLASS: SATURDAY, APRIL 9TH. 10:00-3:30 $45.00
I will probably be presenting little houses, but I may find another paper pieced project to present.
I will keep you posted.

Happy Quilting!
Susan Florez
Quail's Nest Quilt Co.,LLC
Managing Partner