Skip Navigation
Website Accessibility
Classes & Happenings at Quail's Nest Quilt Co
Here are a list of classes and events coming up in the next few months. June 22, 2022

A Ribbon Runs Through It BOM 10:00-2:00 June 23rd $35.99 We still have room for two more participants.
Tomorrow June 23rd is the 6th in the series for this Block of the Month. Be sure to purchase your block even if you are not coming to work on it. The classroom is available for you. The Fourth Thursday of each month is devoted to A Ribbon Runs Through It. Look for Deby Stagliano's finished quilt in the Tuolumne County Fair.

Decorum is a new BOM that is starting this Friday. 10:00-2:00 June 24th $18.50 All ten spots for this have been taken.

Layer Cakes, jelly rolls, and fabric on bolts are available.

Pottery Maker Classes:
Pottery Maker Part 1 Tuesday, July 19th $25.00 This class teaches the basic pots and explores the sashing.
Pottery Maker Part 2 Tuesday, July 26th $20.00 This class teaches the fancy handled pots and borders.
A great idea is to learn the pots and make a table topper or table runner. I think the Decorum fabric would make attractive pots.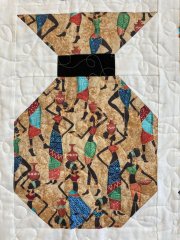 SHOP HOP COMING! The beach theme is well underway! The 6 shops will be giving away a block to complete the basic beach wall hanging. Shops are preparing embellishment kits! For a minimal fee you can purchase "extras" to add to the beach scene. We are adding a surfboard, a Boogie board, a beach quilt, a picnic basket, and a sign post!
In addition, I have extended the quilt by 14 inches, adding a Surf Shack! We are still working on borders. Some of the shops will be selling border kits. The picture is a work "IN PROGRESS". I will show the finished quilt in a week or so.


BINDING CLASS TUESDAY, JULY 5TH 10:00-12:30 $20.00
PLEASE Prepare a 2 1/2" strip joined on the bias and pressed in half lengthwise. Talk to us if you need to know how long to make it. Have a project you can sew it to.

APPLIQUE CLASS TUESDAY, JULY 2ND 10:00-4:00 $45.00
BOTH A TURN UNDER METHOD USING FREEZER PAPER AND FUSIBLE APPLIQUE WILL BE PRESENTED. The turn under style is in the morning, and the fusible is in the afternoon.


BEGINNING QUILTING CLASS TUESDAY, AUGUST 9, 8/16, 8/23, 8/30, AND SEPTEMBER 6TH. 10:00-12:30 $75.00
IF YOU NEED TO PAY AS YOU GO, IT IS $15.00 A SESSION. SEE US FOR A HANDOUT ON FABRIC AND SUPPLIES.


BEYOND BEGINNING QUILTING CLASS THURSDAY, SEPTEMBER 1, 9/8, 9/15, 9/29, OCTOBER 6, AND 10/13 $75.00
10:00-2:00


HAPPY QUILTING,
SUSAN FLOREZ