Skip Navigation
Website Accessibility
More Shop Hop INFO
Here are our Shop Hop Baskets!
The little one is the free one for the first 50 customers.
THERE WILL BE EXTRA THINGS FOR US TO GIVE AWAY FROM THE JUNCTION SHOPPING CENTER!
The big one is an Opportunity Basket. Be sure to fill out a ticket. Winners will be drawn soon after the Hop is over. Remember to turn in your passport at the last shop you visit. This will be for the opportunity of getting the Gift Certificates. One lucky person will receive $50.00 GC from each shop! Second place is $25.00 GC from each shop!
Here are some more pictures. The extension is 14 inches more to the right of the quilt. I am showing our fish today. You may want the fabric that is in our fish. I am working on having a small packet of fabric in our fish colors for sale. I will have a poster board at our check in station with what is available for what price.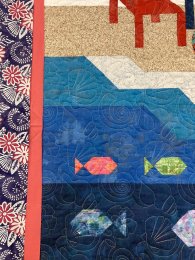 OBSERVE THE COLORFUL BORDER CHOICE IN THE MIDDLE PICTURE! WE WILL HAVE THAT BORDER AVAILABLE ALSO!!!
DEBY STAGLIANO QUILTED OUR QUILT! SHE AND I COLLABORATED ON THE QUILT PATTERN CHOICE! I LOVE IT!
IF YOU ARE UNABLE TO ATTEND THE SHOP HOP, AND WANT THE KIT, OR OUR BLOCK, LET US KNOW. IT
WILL BE FOR SALE AFTERWARD.