Skip Navigation
Website Accessibility
Shop Hop Wrap Up & What's New

The borders in the medium and large border kit need to be cut at 1 1/2" for the inner border, and 4 1/2" for the outer border.
Next, the medium blue in the extension kit was cut at 3" inches for the kit; however, it should have been cut at 3 1/2" to accommodate the triangular sections below it. Let us know if there is anything you need. My plan is to send out larger pieces to those who bought the extension.

NEW 108" BACKINGS: I PUT A BOX OPENING VIDEO ON FACEBOOK EARLIER THIS WEEK. I ADDED THESE TO THE ONLINE SHOP AS WELL.



I have been working on "Star Dust" blocks lately. Here are some of them. I just put Friday, September 30th on the calendar for a class on this.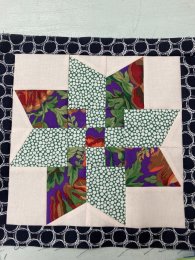 Jen Kingwell designed it.




Debbie Hicks made up a Cork Handy Basket as a shop sample. We have two kits for sale at $10.50 a piece. The cork lines the basket so that threads are not left clinging to the lining fabric! CLEVER!! Also, Look at the picture in the pattern. They can create storage units.
I'm thinking Christmas Gifts!! Maybe Debbie will teach a class. I chose September, 13th! It's a Tuesday. Debbie left for Hawaii; do you think I should schedule it anyway! :) ;)

And that's NOT ALL FOLKS! Here I am working on a cute Halloween quilt with fabric by Clothworks, called Haunted Hallow!



I'm not finished yet. I may add jack-o-lanterns.
Successful Sewing,
Susan