Skip Navigation
Website Accessibility
Quail's Nest Quilt Happenings!
We have the Reflections of Autumn fabric that is posting on various internet sites!
Susan is willing to teach this Kaleidoscope pattern on Friday, October 7th for the special price of only $38.00!
10:00-3:30 A Spider Web ruler is ideal for this project! A 45 degree angle is needed.




A Handy Basket Class - This Handy Basket is lined in cork! When it is used as a thread catcher, the threads do not stick to the lining!
Teacher Debbie Hicks Tuesday, September 13th $15.00 (Amazing price!) 10:00-1:00 This basket makes a great gift as well.

Look closely at the picture on the pattern...hanging from hooks!

Beyond Beginning Class! New Start DATE! Thursday, September 29th for 6 Thursdays in a row! $75.00 or $15.00 a session




Star Dust! It is a beautiful block designed by Jen Kingwell! Please let me know if you are interested in a short class on this.
It can be taught in only a half day's worth of time! Friday, September 20th $20.00 10:00-12:30


There is a light inner border, and a piano key border completes this colorful beauty!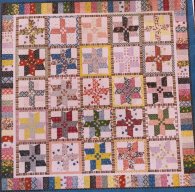 We have more Bloc Loc rulers in the shop! I have one Half Rectangle Bloc Loc! In addition to the Half Square triangles, I have three sizes of Flying Geese.

Sew happy,
Susan