Skip Navigation
Website Accessibility
End of Summer Season Blow out Sale!!
END OF SUMMER BLOWOUT SALE IS HERE AT QUAIL'S NEST QUILT CO.,LLC


MOST FABRIC IS 25% OFF
(Excludes Reflections of Autumn Collection)
STARTING TODAY AND LASTING UNTIL THE LAST DAY OF AUGUST
INCLUDES NOTIONS, PRECUTS, WOOLS, AND PATTERNS
SOME ITEMS WILL BE MARKED AT 45% OFF
MAKE WAY FOR NEW INVENTORY!


108" BACKING IS 20% OFF WITH END OF BOLT BEING 30% OFF

CLASS: STARDUST THE JEN KINGWELL DESIGNED PATTERN WILL BE TAUGHT
SHORTENED TIME: 10:00-12:30 one block repeats
2 customers (FROM MODESTO) are already signed up
REDUCED PRICE: $20.00
REDUCED PRICE FOR THE PATTERN IF TAKING THE CLASS
REGULARLY $16.00, BUT IT WILL BE 5:00 OFF! $11.00
SOME Pre-cutting is necessary.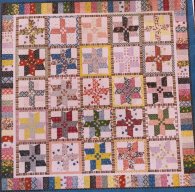 REFLECTIONS OF AUTUMN OCTOBER 7TH SPECIAL CLASS PRICE $38.00
10:00-3:30
KIT: $152.00 CALL US ABOUT A LAYAWAY PROGRAM



SEWING MACHINE PRICES ARE GOING UP, BECAUSE OF SHIPPING EXPENSES AND THE MACHINES THEMSELVES.
WE ARE WILLING TO SELL OUR REMAINING CURRENT MACHINES AT $370 FOR THE SPARROW 25 AND $477 FOR THE SPARROW 30S. BOTH ARE LIGHT WEIGHT, YET STURDY.



SEW HAPPY!
SUSAN FLOREZ
QUAIL'S NEST QUILT CO.,LLC
MANAGING PARTNER