Skip Navigation
Website Accessibility
November Newsletter from Quail's Nest Quilt Co
We had a fun day Saturday! Lois came and handed out candy to the children participating in The Junction Halloween Parade!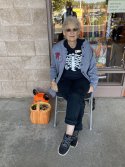 flower pots!
Chicken and barn!
Thank you to everyone who has stopped in over the last couple months, and everyone we saw at The Independence Hall Quilt Fair at Ironstone! What fantastic days we had there. We have been busy with Beginning Quilt Classes, Beyond Beginning classes, Stardust, Decorum, and Reflections of Autumn classes. There is still a conclusion to Reflections of Autumn on November 4th. I believe there is a possibility for one more kit of that one.
WE ARE CHANGING OUR HOURS. WE WILL BE OPEN BY 9:30 AND CLOSING BY 4:00 UNLESS YOU CALL AHEAD AND LET US KNOW THAT YOU NEED US TO STAY OPEN LONGER FOR YOU THAT DAY OR ON A PARTICULAR DAY. *******
I continue to make Stardust blocks, and I have added three new bolts to the Jen Kingwell collection.
Stardust
Reflections of Autumn.
New! "Little Ones" is the name of the panel and kits we have available for this quilt.
$66.99 for the Kit.
We have blue, yellow, and grayish fabric for babies called D is for Dream.
There is fabric called "The Secret Winter Garden" on bolts. This is the quilt, and Kits are available.
BEGINNING QUILTING CLASSES WILL RESUME IN JANUARY! COME IN THIS MONTH OR NEXT TO GET PREREGISTERED, AND GET THE HANDOUT OF INFORMATION AND SUPPLIES! BEYOND BEGINNING QUILTING WILL FOLLOW THE BEGINNING CLASS LATE FEBRUARY OR EARLY MARCH.
STOCKING CLASS: THURSDAY, NOVEMBER 17TH 10:00-12:30 $15.00
I will introduce my Christmas Selvage Stocking, as well as the basic stocking shape and construction.
Other ideas will be presented such as, a Crazy Quilt construction.
PILLOW CLASS: FRIDAY, NOVEMBER 18TH 10:00 -12:30 $15.00
Learn to make a pillow cover for a preformed pillow. Use your own fabric or use a panel square as a motif.
I have ideas and will post pictures as I finish mine.
HANDY BASKET CLASS: TUESDAY, NOVEMBER 29TH 10:00-1:00 $15.00 BRING A SNACK FOR YOURSELF.
THIS CLASS WILL BE TAUGHT BY DEBBIE HICKS. THESE ARE PERFECT FOR YOURSELF OR
AS GIFTS. I WILL DEMONSTRATE THE USE OF IRON-ON VINYL. They can hang!
TELL US WHAT YOU WOULD LIKE TO LEARN, (IF ANYTHING) IN THE MONTH OF DECEMBER.
COMING NEXT YEAR:
I WILL BE LEARNING THE STRIPOLOGY MIXOLOGY METHOD FROM THE BOOK WITH THE SAME NAME.
HAPPY SEWING,
SUSAN FLOREZ