Skip Navigation
Website Accessibility
New Arrivals and January Classes at The Nest
Fabric blenders arrived last week and notions arrived Friday and Saturday.



Ruby Star blenders Thatched- Speckled black Fall Fantasy flannel
turquoise, royal Grunge black dress Fall Melody FQs as well
and spruce
Wide back:Zen Chic

108" backing Poinsettia Plaza 25% OFF
(This is not new, but it's on sale)
Notions:

This sticks on a ruler magnifying the lines and numbers to make cutting easier. It can be repositioned.
This is a ruler holster. It can hold 2 pairs of scissors, and can be attached to the side of a sewing machine.



Classes:

Alice Kraus will teach Reverse Applique. Her heart wall hanging is here at the shop for your viewing pleasure.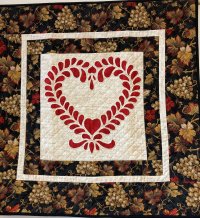 Saturday, January 14th 10:00 - 2:30ish $35.00
(4 student minimum)
Stripology Mixology Class Quilt JoJo
I am teaching a series of classes this year based on the Stripology Mixology 2 book. The first class is "Jo Jo". A book and a ruler are required. The ruler is the Stripology Squared or Stripology XL which has a left handed side to it. The ruler saves as much as 70% of the time needed to cut out the fabric.


Friday, January 27th 10:00-2:00 $35.00

Hattie Bishop is starting to work with us at Quail's Nest Quilt Co. She is making squares for "Sew Scrappy Spools" by Lori Holt. This class will be scheduled soon. Let us know if you are interested in participating in a Block of the Month based on this quilt. It is "Sew Cute"!



Beginning and Beyond Beginning classes start in January as well. We already have some customers who have signed up for these. Please check out our calendar on-line at quailsnestquiltco.com or call us at 209-536-4009. I read my emails sent to quailsnestquiltco@gmail.com

Here is a last minute arrival! Wool pincushions in many colors.

Fons & Porter 1/2" rulers are back in stock too.

Happy Holidays,
Susan Florez