Skip Navigation
Website Accessibility
Happy New Year from Quail's Nest Quilt Co.
HAPPY NEW YEAR!

(Well, tomorrow anyway!)

The shop is open on this very wet New Year's Eve! The shop will be open on Monday as well. There are preparations to be done for the New Year. The new Minke fabric, Banyan Shadows, new 108" fabric, and new blenders all need to be celebrated. :) Sew, Let's have a sale for all of next week! 25% Off of the fabrics of your choice including our heavy weight flannel. Christmas fabric, pre-cuts, and gifty items are 40% OFF!



flannel wood grain 108" Beauties Heavy Weight flannel Banyan batiks



Sew, What is up and coming for the New Year?

Sign up for Reverse Applique taught by Alice Kraus! She has brought in the Supply List. I have selected fabrics that I would like to make one of these beauties out of. Saturday, January 14th 10:00-3:00 $40.00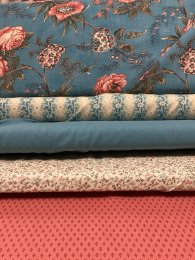 STRIPOLOGY MIXOLOGY! THE FIRST CLASS IS CALLED JO JO! IT IS THE FIRST QUILT IN THE BOOK.
FRIDAY, JANUARY 27TH 10:00-2:00 $25.00 TAUGHT BY SUSAN
I have been having so much fun using the Stripology XL ruler to cut the pieces needed for Jo Jo! I CUT THE WHOLE QUILT OUT IN 1 1/2 HOURS. I made 12 blocks last night! IT IS TRULY A TIME SAVING RULER. The shop has put together a few kits that match my sample. The sample uses similar colors that are in the book, but not the exact line of fabric. I REORDERED THE BOOK. THE RULERS ARE AVAILABLE NOW. The ruler is not necessary. Directions are in the book for cutting with regular rulers. (not as fast)
First block finished.
There are Stripology Mixology classes scheduled throughout the Spring and Summer.
Friday, March 10th is Trixie.
Other arrangements.
Friday, April 14th is Athena. There is no star making involved. It is made from 2 square blocks surrounded with a strip!
It's mind blowing!!
Friday, May 19th is Milky Way.


Friday, July 14th is Harmony 2


I will share with you some of the fabric lines I have ordered soon, so that you know what the shop is getting.

Sincerely,
Susan Florez