Skip Navigation
Website Accessibility
April Newsletter from Quail's Nest
Annual Easter Egg Hunt




You must come in to Quail's Nest Quilt Co on this Friday and Saturday

,

April 7th and 8th, for our Easter Sale!

It is so much fun to hunt for colorful eggs with a

treat and a discount in every egg!

Each customer may find two eggs. There are so many new fabrics!! If you haven't been shopping here in a while, you need to see all the new collections!



This collection is called Zen.
We have kits.
The Secret Life of Squirrels is depicted in this digital panel and border print.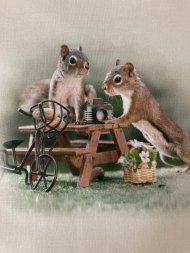 We have kits, and this is the enclosed pattern.



You have to see it in real life, but this gives you an idea of the simple effectiveness of this quilt pattern.


Come to the Athena class and learn to use the Stripology ruler!
It saves 70% of your cutting time! Cuts are very accurate!

April 14th here at the shop. $35.00 10:00-3:00
I currently have the Stripology Mixology 2 book and a few rulers available.
May 19th is the Stripology Mixology class on "Milky Way"!
I have 2 new patriotic lines. One is called "Liberty for All", and the other one is called, "Free Range"!
The shop sample will be available to view soon.

Happy Quilting!
Happy Easter!
QUAILS' NEST QUILT CO.,LLC