Skip Navigation
Website Accessibility
Mother's Day Sewing Machine Special!!

If you ever thought about getting a light weight sewing machine now is the time! There are only
three Celine's left! They are regularly $420.00. Now through Mother's Day a Celine will cost $399.00!
Not only that! You will receive a $25.00 gift certificate AND a free pin cushion of your choice. We have
many. A few new ones just came in. The first customer to purchase one will get a FREE Sewing Box that is really cute!
I recently purchased a Celine for myself! Even though I use whatever EverSewn machines I happen to have in stock while at the shop, it's not the same as sewing from home where I spend a lot of time with my sewing machine.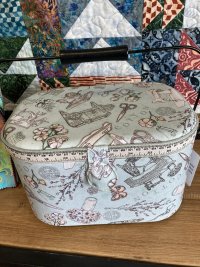 I have been loving how it performs! It is so quiet. I like the push button cutting of thread, the extension table, the needle up/down function, and so much more! It is easy to set different stitches (200 stitches) which quilter's need, like the button hole stitch. It can drop the feeddogs for free motion quilting.
Come in right away for the best deal!
Sincerely,
Susan Florez
PS New Betsy Chutchian fabric came in! It is called Florences Fancy!