Skip Navigation
Website Accessibility
May Happenings at Quail's Nest Quilt Co.
Cinco De Mayo Specials
Friday, May 5th and Saturday May 6th I will have 108" backing fabric on sale for 25% OFF, the La Vida Loca Line of fabric will be 30% OFF, and 20% Off of a very fiesta colored Trixie kit. We have three flannel backing fabrics, and two new regular cottons called "Shadow Flower" in cream and lavender. We will have a drawing for a "salsa" themed apron and $1.00 gives you this opportunity.
Remember our Funky Fabric Contest? Enter a contest to win a $50.00 gift certificate or a second place $25.00 certificate for making a quilted project using a floral fabric by Anna Marie Horner called "Lichen Social Climber". Turn projects in by June 30th. The projects will be displayed and voted on by customers throughout the summer. The winner will be announced on September 22nd. (official last day of summer) The project must have at least one yard of this fabric in it.


CLASSES
JUNK JOURNAL PROJECT BAG CLASS MAY 9TH 10:00-3:30 $40.00 KITS AVAILABLE


FREE MOTION QUILTING CLASS FRIDAY, MAY 12TH 10:00-2:00 $45.00


MILKY WAY STRIPOLOGY MIXOLOGY 2 FRIDAY MAY 19TH 10:00-2:00 $35.00
This class requires cutting strips ahead of time. I will be creating a cutting guide.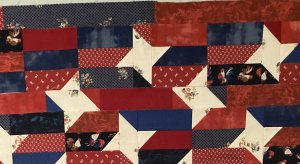 POPPIES CLASS 10:00-1:00 on both May 16TH AND MAY 20TH $50.00


This class is taught by Hattie Bishop using freezer paper templates.

SPINNING DAISIES JUNE 16TH 10:00-3:30 $35.00 STRIPOLOGY MIXOLOGY 2


THAT'S ALL FOR NOW,
SEW HAPPY,
Susan Florez