Skip Navigation
Website Accessibility
June/Summer Newsletter from Quail's Nest
QUAIL'S NEST QUILT CO JUNE/SUMMER NEWSLETTER
The Sew Valley Shop Hop is fast approaching!
This is a shop sample in the flimsy stage! (I heard that flimsy means unquilted) Friday, July 14th and Saturday, July 15th 9:00-6:00
Our shop sample is currently being sewn! We are excited to see it finished! The wings on our shop sample are made from a white and gold sparkly Fairy Frost. The change in fabric will be available in a tiny package for a minimal price during the Shop Hop! Our Free section of the quilt is the upper left corner including the bear's ears. An extension is being designed that includes some bear cubs by a creek. Embellishments are being created, so STAY TUNED for that.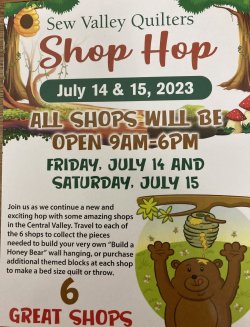 CLASSES:
FYI - There is a follow-up session to the Junk Journal class on This Thursday, June 15th, so don't come to Quiltin' with the Quail's on that day.
SPINNING DAISIES CLASS - This Friday June 13th! 10:00-3:00 ONLY $35.00
This is a crib sized.
A throw can be made from many more 1 1/2" strips.
FREE MOTION QUILTING CLASS: JUNE 20TH $45.00 10:00-2:00 SUPPLY LIST AVAILABLE
MACHINE EMBROIDERY CLUB: JULY 27TH 10:00-12:30
BEGINNING QUILTING CLASS STARTS ON THURSDAY, JULY 20TH 10:00-12:30 $75.00 FOR 5 SESSIONS CLASS #2 JULY 27TH,
CLASS #3 JULY 3, CLASS # 4 JULY 17TH, CLASS #5 JULY 24TH.
HARVEST WISHES CLASS: TUESDAY, JULY 15TH 10:00-4:00 $40.00 FUTURE: KITS WILL BE AVAILABLE SOON.
KITS ONLY. NO SEPARATE PANELS
STRIPOLOGY MIXOLOGY 2 - HARMONY 2 : FRIDAY, JULY 21st 10:00-3:00 $40.00
STRIPOLOGY MIXOLOGY 2 WANDA CLASS: 10:00-3:00 $40.00 FRIDAY, AUGUST 18TH
MACHINE EMBROIDERY CLUB - TUESDAY, JULY 22ND $5.00
SILENT NIGHT QUILT CLASS: FRIDAY, AUGUST 25TH 10:00-3:00 $40.00 LOOK FOR THE LOCOMOTIVE WITH A STEAM ENGINE.
CHRISTMAS RIBBONS QUILT CLASS: TUESDAY, SEPTEMBER 5TH 10:00-4:00 $45.00 A Lynn Wilder pattern!
THIS IS JUST THE BEGINNING, I'LL BE REVEALING MORE LATER.
Happy Sewing,
Susan Florez