Skip Navigation
Website Accessibility
Corrections to Yesterday's Newsletter
CORRECTIONS FROM QUAIL'S NEST QUILT CO
The Beginning Quilt Class begins on Thursday, July 20th and continues on July 27th, August 3rd, August 17th, and ends on August 24th.
There is a skipped week because of the English Paper Piecing Club that meets on the second Thursday of the month.
The Harvest Wishes class is on Tuesday, August 15th from 10:00-4:00.
NEW FABRIC THAT IS NOT CONNECTED TO A CLASS, AT LEAST SO FAR, IS A PANEL OF THE MANDALORIAN, A MANDALORIAN BLENDER, AND "A REY OF LIGHT" FROM STAR WARS. THE MANDALORIAN IS A NEW SERIES THAT STREAMS ON DISNEY PLUS!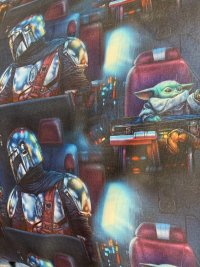 Thank you!
Susan Florez