Skip Navigation
Website Accessibility
The Shop Hop is this Weekend!
Friday and Saturday is the Third Annual Sew Valley Shop Hop!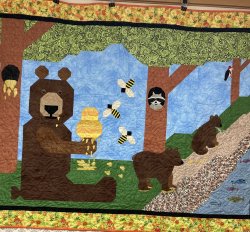 Here is my extension! It is called "Cubs to the Creek". These will be your choices: Two different border kits, one with an orange background and a second kit will have a light green color behind the flowers and bees. I have both borders on my shop sample, so that you can compare them. The border kits will include the inner border, out border, and binding. Supplies are limited. Also, a small accessory kit to go with the "Main Bear" will be available. It will have gold fabric for the dripping honey, and a black Grunge called Iron for the hole. I will also have a small "wing" kit available. Our wings are in a white/gold Fairy Frost fabric.
Our FREE square is the top Left corner of the Main section.
The extension kit will have two parts. The first kit is all the fabric for the pieced parts. The second kit will have all the fusible appliqued pieces. I only have enough fabric for 60 extension kits. So, I will sell these extras only while supplies last. Prices will be forthcoming. I'm still working on that.
We will have a photo Opp inside the shop! We will have cold water!
Susan Florez