Skip Navigation
Website Accessibility
A Quick July Reminder for Quail's Nest Quilt Co.,LLC
Thank you to all who participated in this year's Shop Hop! It was very successful despite the heat! Here are some pictures taken at our Photo Opp station.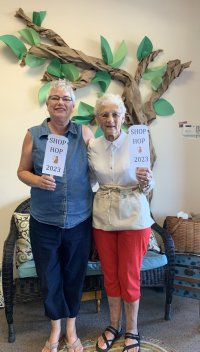 Gwen White, and Debbie Hicks lent their bears for the cause. My Granddaughter, Jillian, stapled up the paper tree!
We still have a few kits available of every kind! The top left corner of the main bear is from our shop, and it costs $7.50. Plus $2.50 to ship it. So, a total of $10.00 is all it takes to collect Block A from us. 209-536-4009 Call the other shops to get their blocks.
The Lilly Pad Block B 209-848-0190 Cloth and Quilts Block C 209-632-3225
Blossom Quilting Block D 209-840-0064 Quilter's Hollow Block E 209-477-5253
JMG Fabric and Quilts Block F 209-509-9901 I still have yardage of most fabrics as well.
Kit#1 $5.00
Extension $32.00 Accessory kit #2 $15.00
Bears,racoon, woodpecker, and fish are Accessory kit #2. These will be displayed at Quail's Nest for awhile.
New Classes this Thursday and Friday!
A Beginning Quilting class starts Thursday. Come get a handout on supplies needed very soon!
Thursdays from 10:00-12:30 for 5 sessions. $75.00
Stripology Mixology 2 Presents another Quilt Class! I call it "Twisted". It is called Harmony 2 in the book.
This class is Friday and there are only 3 FUN people in it so far! Sign up soon! 209-536-4009
10:00-3:30 $40.00 We will cut in class. We have a few kits.
See you Soon!
Susan Florez