Skip Navigation
Website Accessibility
October Newsletter from Quail's Nest Quilt Co
I love October! Fall activities are fun, and the weather is usually pleasant. We had a great time in the Fall Harvest Class on Thursday. There will be two kits available for others as well.
Athena will be taught again this month. Five people have already signed up. So, we may have room for 2 more.
October 19th. 10:00-3:30 $40.00
More fabric has arrived so, we will be making more kits. The bear panel will be available individually as well.
I have the pattern available again with my notes in it. If another class is desired, let me know.
I have started into Stripology Mixology 3! I am working on "Jewel"; the first pattern in the book.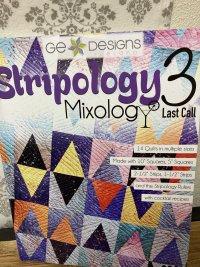 I have been using Stripology Squared mini ruler for sub-cuts and the new book uses triangles for trimming corners. These blocks are from a new line of fabric called "Cadence" by MODA fabrics.
This is the main floral from "Cadence". There are other bolts and many Layer Cakes to make "Jewel" from. I will offer a class on this in November. Call if you are interested, and help us select a date.
BEGINNING QUILTING starts tomorrow October 3rd. It runs through October. $75.00 Tuesdays from 10:00-12:30.
SCISSOR SHARPENING IS AVAILABLE. BRING YOUR DULL SCISSORS TO US.
We are doing an "On the Go" Tote class this Friday and Saturday. (2 days) 9:45-3:30 $40.00
It is a full class; however, I have a second class scheduled for October 27th and 28th. There are two people signed up already.
It is large enough to hold a mat that is 18" X 24", your 24" ruler, and many tools. There is foam board between the layers.
I made these blocks based on Bellatrix in Stripology Mixology 3. The strips were left overs from Wanda.
Here is another fabric line that just arrived. "Pressed Flowers"
LC available.
The new Bee Line from Moda called "Honey and Lavender" will be arriving later this month.
Happy Sewing,
Susan Florez
Quail's Nest Quilt Co