Skip Navigation
Website Accessibility
Nov./Dec. Newsletter from Quail's Nest Quilt Co
Nov./Dec. Newsletter from Quail's Nest Quilt Co
Some of you may have noticed the videos of me opening boxes of fabric on Facebook. If you haven't seen them, check them out.
We will be making table toppers, throws, etc. from the Honey Lavender line by Moda. I have already made the "Topper" top :) and I am ready to quilt it.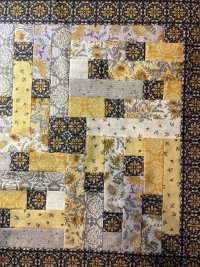 The class for this is scheduled for Tuesday, November 28th. 10:00-3:00 $25.00 A "Honey" throw can also be made! This project is in Stripology Mixology 2 book which many have already purchased.
I am celebrating the 20th anniversary of the Braid Runner! Ha, Ha!
Twenty years ago I was addicted to this Quilt As You Go pattern! I made many for a Christian quilting group I was in. We held a boutique and donated money to missions. Here is a picture of the layout for the next table runner I am making.
Another pic.
JUST A LAYOUT; THAT IS WHY IT IS WONKY.
CLASS: TUESDAY, NOVEMBER 14! 10:00-3:00 $20.00 QUILT AS YOU GO!
THE CLASS REPEATS ON THURSDAY, NOVEMBER 30TH! 10:00 -3:00 $20.00
Debbie Hicks is willing to teach Lynn Wilder's Seasonl Hexie. I'm thinking of using Monday, November 20th for this class.
10:00- 1:00 JUST $10.00
Christmas, Easter, etc can be your theme.
FREE MOTION QUILTING CLASS: TUESDAY, DECEMBER 5TH $40.00 10:00-2:00
JoJo is coming back! we first did this quilt last January. For those who want an introduction to stripology this is the class for you! It is a throw, but there is a mini version in the form of a table runner as well. So, even those who have made the throw may want to attend and make this cute table runner.
Friday, December 8th 10:00-3:00 $35.00
Friday, December 29th I am willing to teach "Athena" again. 10:00-3:00 $35.00
"Jewel" will be the first quilt from the Stripology Mixology 3 book. This class will take place on
Thursday, January 11th 10:00- 3:30 $40.00
Binding class: January 19th 10:00-12:30 $20.00
Class: Christmas Ribbons will be taught on Thursday, January 25th $40.00
Happy Quilting!
Susan Florez